FALL-elujah!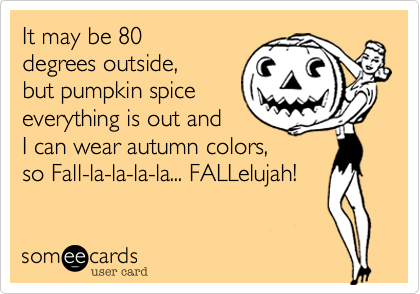 This is the best time of year, summer weather with Autumn perks. Pumpkin spice everything is here and we are throwing out usually clean(ish) diets to the wind and indulging in any/everything we can get our hands on. Is there anything better than hanging poolside post workout and sipping on a PS Frapp no whip?! I THINK NOT! As if it couldn't get any better, soon the weather will start to cool off (which will be welcomed after the heat we've had), and those boots that have been accumulating dust can make their way to the front of the closet. Not to mention all the amazing chunky sweaters, blazers and pashminas that have been neglected for oh so long.
Let's all say a big FALL-ELUJAH to some of our Fall faves:
2. Finding the most glorious chemical filled pumpkin treats
5. All the delicious Fall beer selections to try (something about the start of cool weather makes us thristy....)
What are some of your Fall faves? Share them with us, we would love to try them!