10 Minute Tushy Toner
Since my days of teaching fitness class are on hold while I grow two little humans, I have really been trying to find different workouts to keep me busy. Not that I don't love my hour of aggressive walking, I do, but it is just not enough for me. Plus, knowing the importance of muscle strength, I always incorporate weight training 3-4 times a week. But then there is my main problem area, my tush. Since I literally had to stop all exercise cold turkey prior to starting my
IVF treatments
, my body was rather confused. It was used to being pushed to the to max nearly seven days a week. So you can imagine that it wasn't too happy with me.
Once I started getting more and more pregnant I noticed that my hips were growing at a crazy rate. Not to mention my thighs and booty were making it quite difficult to fit into my old pants and shorts. I was in maternity clothes within the first few weeks of being pregnant...it was freaky. I soon went on the hunt for low impact workouts I could do that would support my growing belly and work that backside of mine. Squats and lunges always left my legs feeling good but I never saw much tightening on my tush. I wanted to bounce a quarter off that thang!
When I stumbled across this PopSugar
10-minute Pilates Butt Workout
, I decided this might be just what I needed. I watched the video, made notes of the movements and decided to give it a try. I grabbed my mat, 5 pound weight and timer. It was ON!
Each exercise is only 30 seconds, so with the transitions and body alignment check you end up with 10 minutes of absolute tush tightening agony. First, some one legged hip raises, followed by pulses then keeping those darn hips up, leg lifts....MOTHER!!! I was sweating and out of breath in one minute and 30 seconds.
Next, side plank leg circles (forwards, then back). This seemed like a walk in the park compared to those hip raises and I loved the added bonus of some oblique work!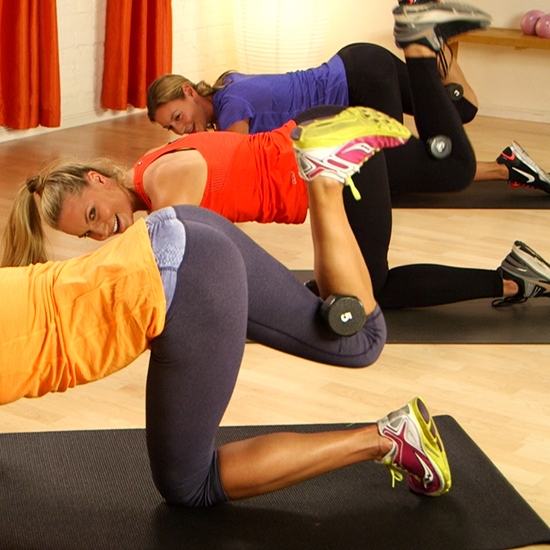 Lastly, bent leg lifts with weights. Follow that up with some pulses at the top and end with good old weighted fire hydrants (or as I like to call them, dog pees).
Just when you think you are done.... SWITCH LEGS! Granted, this workout is NOT easy. But it is fast, so every time you think of quitting you just yell at yourself to power through it. I mean you can do 30 seconds!
I love this new workout and do it every other day. I feel my tush and hamstrings getting tighter and only pray this dedication pays off!