How to Host a Successful (and Profitable) Garage/Yard Sale!
While I do love an early morning garage sale hunt as much as the next person, I also really love hosting my very own garage sale. For those of you who don't already know, organization is the light of my life. I thoroughly enjoy cleaning and reorganizing closets, drawers and really anything... as often as possible. I have never denied being super anal and having OCD, but I swear to you, if things aren't precisely in their place, the clutter and semi folded clothes in the drawers speak to me... no joke.
Needless to say, all that reorganizing really allows me to examine what I have and what I want to keep versus toss. Since moving out on my own and constantly buying more and more goods at vintage stores, garage sales and flea markets, my home is ever being upcycled with things coming in and going out. When I buy a new sassy Pyrex, the boring plain glass has to go.
During my stay in middle of nowhere, I really had the opportunity to re-organize all the time. Having to furnish a three bedroom home was tricky at first when I raced to fill each room with crap. Once I had things to tide me over, I could swap the junk out for things I loved. Over the years (and a wedding which brought a whole new crop of stuff) I was going to Goodwill way too often. I knew there was a better way to get rid of this stuff... and maybe make a buck. DUH! I had a real house, a front yard and all, Thriving Garage Sales became my newest addiction. Not only did I have lots of stuff that had to go, but my mom would donate when having a "clutter attack" herself. However, once I mentioned my new passion to my AMAZING mother-in-law, I was really in business. She is a crafting goddess and a party planning diva, so naturally she has closets and guest bedrooms filled with things! Once word spread to her that I was selling my goods, she filled BOXES and I mean, BOXES of amazing things all for me to sell! I mean, I could have opened a Michael's with all the great merchandise, but instead I sold it all for top dollar from my own front yard.
A typical donation from my amazing MIL...










Typical example of how amazing my MIL donations are... BRAND NEW SCRAP BOOKING STICKERS!
For the past three years I have been quite the garage sale hostess, added bonus... I have pocketed quite the pretty penny. Under the tutelage of my great Thriving Mother, I have transformed into a garage sale'n hostess with the mostess. I have invited "guest sellers" to my own home and even helped my beautiful SIL host the first garage sale of her own!
Are you ready to take the next step and have your own garage sale?
Why donate your junk when I promise you someone will buy it?!
Hey, a dollar earned is one more than you had before. If you are still loaded down with crap,
then
you donate.
Here is a great plan to getting ready for making a killing at your next garage sale.
1. Get organizing baby.
Since excess and junk is the enemy, take a weekend or two to really go through your home and decide what you REALLY need. Haven't used something in a while and have no foreseeable plan to use it in the future? Sell pile. Something broken for months and while you
plan
to fix it you still haven't? Toss pile. Old clothes that have seen better days (stains or holes)? Toss pile. Old clothes in good condition that don't fit right? Sell pile. Purses that are taking up space and you are never planning on using again? Out pile. Trust, this activity can be really fun, even for the non-OCD people in the house. Get some cozy clothes on, get some music bumping, grab some garbage bags (for trash) and boxes (for selling) and start making some fresh space. Heck, pour yourself a glass of wine if you so dare. But get it done!
Looking in each box, sorting and deciding how to showcase... yes, this took four hours.




2. Set a date. Now that you have your supplies, make sure it warrants enough to actually hold a garage sale. If so, pick a Saturday (the first of the month is usually good as most people get paid) and check the weather. Rainy or super cold weather often will deter your customers and no one wants that. Once you have your weather checked and date set, it is time to get prepped.
3. Preparation. I like to set up my garage prior to the main event so all I need to do is pull it out to the driveway come Saturday morning. I usually use long tables to showcase my smaller items, tarps covered with old sheets for any clothes, or "searching" goods for people to go through on the grass. Make sure you use the tarp as the grass is often dewey in the morning which ruins your sheet approach and makes for soggy stuff... barf. I like to keep most things together, i.e. kitchen stuff, clothes, decor items, books to make it easier for the shopper.


Determining where things are going to go for the next morning, can't have a Christmas/kitchen/decor table... gotta get prepped!






Setting up tables to pull out the next day
Start of the "kitchen decor/accessories table"
We used these baskets (that we were also selling) to separate some craft supplies to make digging all that much easier!
We created piles of different seasonal decor so we could lay out sheets and then present the items together to incept people to buy it all!
How about this entire Christmas set? Plates, cups, ornaments... we are a one stop (sheet) shop!
When selling multiples of anything keep it all together and make a deal like 2 for $5 the goal is to get it gone!
Use old sheets, blankets (on concrete) and tarps (on lawn) to lay out as much as you can
I tend to lay out all clothes on a tarp... granted there are some random items here, but I like to draw people in with intriguing them on a treasure tarp hunt!
4. Schedule your time.
The best garage sales are the early ones, so plan on being ready to rock no later than with the sun. Obviously, the timing will depend on the season and when the sun rises, but make sure to plan on being out, stocked and ready to sell with the sunrise. I assure you, people will be there early and ready to bargain. Try to get at least $20 in ones as people do come unprepared. Or you could be cold hearted like me and tell them you have no change, I am always surprised when they excuse themselves to go to their car and low and behold they have the cash! I always end at noon and start shutting her down by 11-11:30. Most true "garage salers" know it is a morning routine and get in and out before brunch, which I really like!
Little whole wheat bagel and skinny mocha to get the day going, BRIGHT and early!
5. Get backup. Garage sales often come in waves. I have noticed a trend in getting hit hard right away, slowing down, getting hit again and then hitting a slow trickle for the rest of the day. I am perfectly fine with that, but the high points can be pretty overwhelming. If you have a relative or friend who is willing to help (or even sell some things of her own) it is not only surely going to make for a fun morning, but also helps split the responsibilities of fielding questions and trying to make change for someone. Lucky for me I got to spend another great weekend with my SIL Nat!
6. Advertising.
The night before the big sale is a good time to get your marketing approach finalized. I use
Dollar Tree
neon poster-board and thick permanent markers for my "signage". Make sure GARAGE SALE is nice and big as well as the address of where to go. Plan out where you are going to place the signs and make sure you are able to hang your signs. If not, turn a box upside down, staple posters on either side and throw on a corner, but ALWAYS visible from busy streets. You want to catch people's eye, so make them bright and get them out there! If you know the street placement ahead of time, you can also add an arrow to help shoppers find your garage sale utopia. As a shopper myself, I really appreciate proper "signage". Before bed on Friday morning, pop on
Craig's List
and create an ad for your sale in the garage sale section. Make sure to highlight hot ticket items as that can make or break a shopper. People LOVE furniture, antiques and quality items (purses, jeans, craft supplies) so try and use key words to grab their attention.
For example: CALLING ALL CRAFT LOVERS - Interested in getting the latest and greatest crafting supplies while also finding great additions to your home? Check out Saturday's garage sale at (insert address) and find all your looking for! Furniture, books, designer clothes and MORE! Hope to see you all there from 6am-12pm, EVERYTHING MUST GO!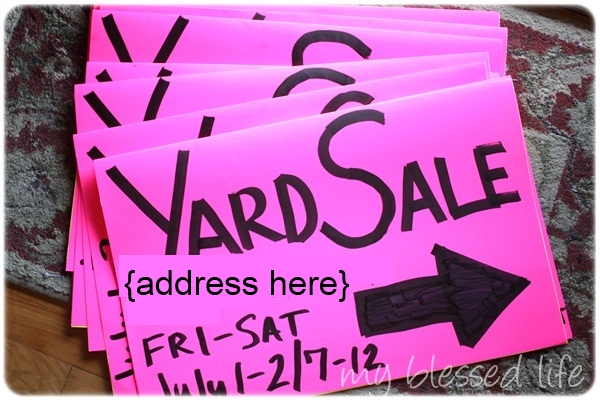 Thanks "my blessed life" for the photo!
7. Rise and Shine.
You are up at least 45 minutes prior to show time which should be just enough to throw on some clothes, pull your stuff out of the garage and put any finishing touches on your layout, throw up your signs (if you put them out the night before, they get dew-ey and bend... then no one can see them. I've tried it.) Once your signs are up, head back to the sale, grab some coffee and take your seat. If you have some old plastic bags you need to get rid of, bring those out too, you'd be surprised how many people request them. Since I hate plastic bags more than anything, I never have any, which isn't ever a crowd pleaser... oh well! Once I take my seat on my chair placed at the end of my garage, I throw on my smile and get ready to wheel and deal. Can you feel the adrenaline pumping?! Oh yeah!!!!!!!!!!!!
Sun is rising and we are all set for the first wave of shoppers... yes we did of course have the "dark diggers" who come before we officially open and peruse before sunrise...
8. Game time. Soon I hope you too see the stream of cars passing, stopping, going in and out and are moving quickly and efficiently. I always greet my guests with a friendly, "Good morning!" and try to chat it up as much as possible. I think I was saleswoman in my past life because I am good... really good. Since I too can play the game of low-balling, I will haggle down to the cent, I have no mercy. However, the more you buy the more you save. So, be open to making 2 for $___ deals because, again, at the end of your sale you want to take nothing back inside but a wad of cash. Do not feel bad about the hard sell, especially in the morning, but also keep in mind you want to get rid of the stuff, not keep it. Smile, sell and conquer! A successful garage sale is easily within your reach!


Try to showcase some "bigger ticket items" to draw people in...